4 Takeaways from the ICE Conference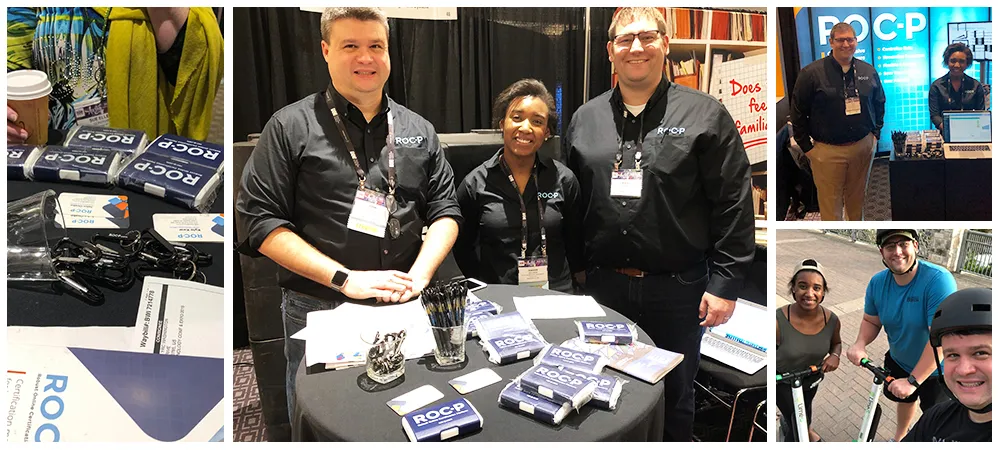 The Institute for Credentialing Excellence (ICE) puts on an inspiring and enlightening annual conference that covers all aspects of the credentialing industry. Everyone from brand new associates at credentialing organizations to C-Suite executives gathers for "the exchange of industry trends and best practices through live education and networking."
The ROC-P team attended the 2018 ICE Conference in Austin, Texas. They sampled great food, rode scooters, and had the opportunity to share information about the most efficient Certification Management System (CMS) on the market with over 1,000 fellow attendees. In addition to spreading the word about ROC-P, our team left with the following key takeaways.
Stand Up and Stand Out
Certifying boards face ongoing challenges in marketing their services. The world population is growing exponentially, and along with it grows the number of credentialing organizations. Many institutions, some with over 100 years of esteemed experience, feel they are drowning among the noise of many competitors.
Successful organizations are finding that one of the few ways they can distinguish themselves from the crowd is to provide outstanding service.
Meeting Demand
The ongoing tech boom has dramatically increased user expectations. Applicants, certificants, diplomates, and other people served by certifying boards are demanding more from the organizations to which they belong.
Users need an interface that is online and constantly available so they can access vital functionality at their convenience. They need an interface to be mobile-friendly. The services need to be hardware independent, performing the same whether they are accessed via a PC, or a MAC, a tablet, or a smartphone.
You Can't Go Home Again
As different technological tools have become available, many certifying organizations have attempted to build their own software in order to manage people and data.
But just because you CAN build a custom application doesn't mean you SHOULD. This is very similar to the democratizing effect that Microsoft Publisher's emergence had on the graphic design field decades ago. Businesses began "designing" their own materials because the tools were readily available, ignoring the fact that this task was far outside their core competency. And the results were awful. Now, professional businesses and organizations have returned to hiring expert graphic designers to create their visual materials.
The same process is happening with certifying organizations. High-functioning certifying boards are abandoning the sinking ship of homegrown software and embracing professionally executed solutions.
The World Is Your Oyster
One of the biggest benefits of simplifying the certification management for boards, staff, and the people they serve is the time and energy that gets redirected to organizational growth.
We have thrilled to see our partners rapidly expand their organizational capabilities, and a key takeaway from the ICE conference was discovering where certifying boards envision their next growth phases. Conversations with board leaders identified a pivot away from US-centric credentialing strategies. Many boards see the biggest opportunities for growth existing outside the borders of the United States. They see the need to participate in a more global economy.
The ICE Conference in Austin provided a wonderful opportunity to network and learn. Whether or not you met the ROC-P team at ICE, we look forward to discussing how this cloud-based CMS can increase your organizational capacity, improve the quality of your data, and serve your people better. Contact ROC-P today!