Case Study: American Board of Orthodontics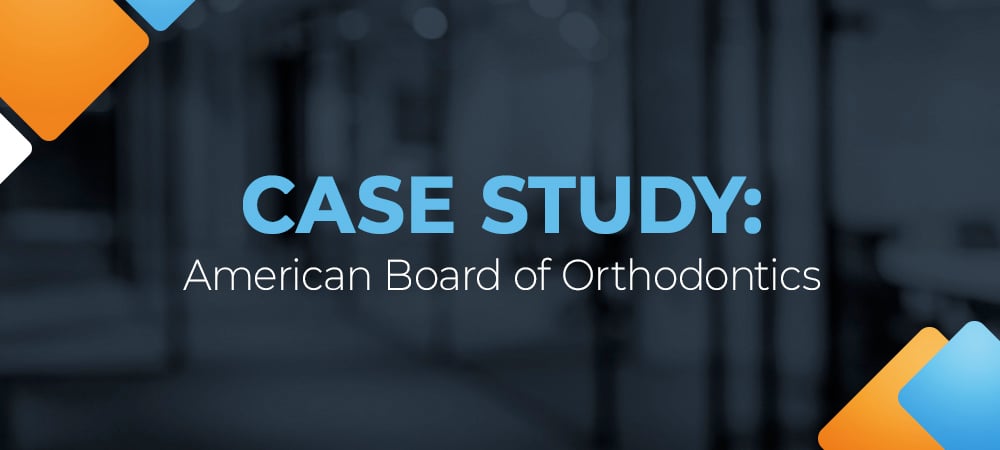 The American Board of Orthodontics is a St. Louis-based organization certifying orthodontists who have attended CODA-accredited programs. Founded in 1929 as the first specialty board in dentistry, the ABO now counts around 5,000 diplomates in the United States and Canada, and is recognized as the national certifying board for orthodontics and dentofacial orthopedics. Around 61% of orthodontists are board certified, and that number continues to increase each year.
The organization has seven staff members serving 9 directors, each of whom represent a different area of the U.S. or Canada.
Problem & Goals
For decades, ABO certification occurred through an arduous case-based process. It required candidates and recertifying diplomates to submit binders of case materials to examiners for review and necessitated multiple testing windows each year. In 2018, however, the organization announced it would shift from case evaluation to a scenario-based clinical exam for certification.
That change meant more orthodontists would be able to take the exam each year. It also meant ABO needed a new software platform to run its updated certification process.
"We had a custom software platform that was built for us that managed the whole [case evaluation] process, but when we made the decision to switch to a scenario-based exam, that custom software could no longer be used for that purpose," said Michelle Valenti, Chief Financial Officer for ABO.
The organization's data was also housed in an Access database best described as "clunky." The priority quickly became finding a comprehensive credentialing management solution that could do it all for the organization.
"We knew we were going to need either to build something custom all over again or find a platform that could handle our new format," she said. "That's where ROC-P came in."
Solution
The credentialing and certification industry is small, and ABO had already been introduced to ROC-P via the American Board of Pediatric Dentistry (ABPD), which was already using the platform.
ABO's leaders were initially impressed by its modern web-based interface, which represented "a very nice upgrade for our diplomates," and ROC-P's ability to transfer data seamlessly from ABO's legacy system to the new one. Once they saw how ROC-P could handle its people and exam management needs in one place, the decision was made.
"We knew ROC-P was for us, so we didn't shop around," Ms. Valenti said. "It had everything we needed and wanted in a CMS [credentialing management system]."
ABO began the onboarding and training process in January 2018, and were up and running by April of the same year.
Results & Benefits
ROC-P has become an integral part of ABO's operations since the organization's onboarding period. It also played a significant role in helping the organization navigate the COVID-19 pandemic a few years later.
ROC-P now serves as the central hub for ABO's data and exam operations, while also seamlessly linking it to CE, testing and psychometric partners, including Pearson Vue and the American Association of Orthodontists (AAO).
Diplomates, for example, can retrieve their AAO credit information and register for the certification renewal exam, all within the ROC-P portal. After testing through Pearson Vue, the results are automatically sent back to ROC-P for grading by trained examiners and analysis by psychometricians.
That capability allowed ABO to pivot successfully during the pandemic and continue certifying orthodontists, even as in-person testing opportunities disappeared.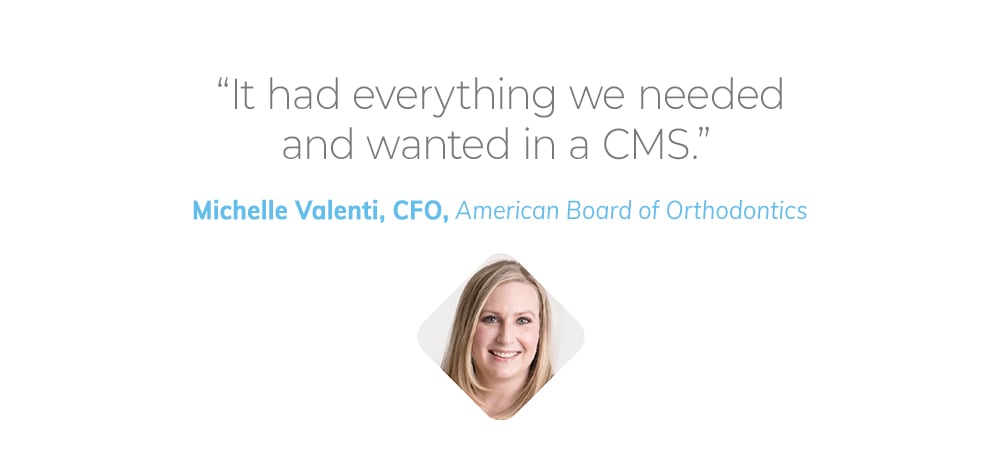 "We have had other boards come to us and say, 'How did you pivot from an in-person exam to a remote exam during COVID?' And we say, without ROC-P and the examiner grading portal, we absolutely could not have done it," Ms. Valenti said. "It really takes technology to enable that."
ROC-P is also helping ABO save money and generate new income that allows it to invest more in its staffing and service. By 2025, the organization anticipates moving to one written and clinical exam each year, rather than offering it two or three times each year, thanks to ROC-P's efficiencies in testing and exam management. That will in turn save ABO money on exam administration and psychometrics.
The platform has also automated ABO's verification requests, allowing it to process a much greater number of those requests each month. Before ROC-P, ABO staff processed about 100 verification requests a year, at about $50 per verification; this year's verification total will now exceed 3,000, for a revenue increase of 2,900%.
"We have seen such an extreme amount of revenue come in from that [verification] process, it's really amazing," she noted. "ROC-P has been such a great partner for us, we recommend it to other people all the time."