Digital Badging is Now Available from ROC-P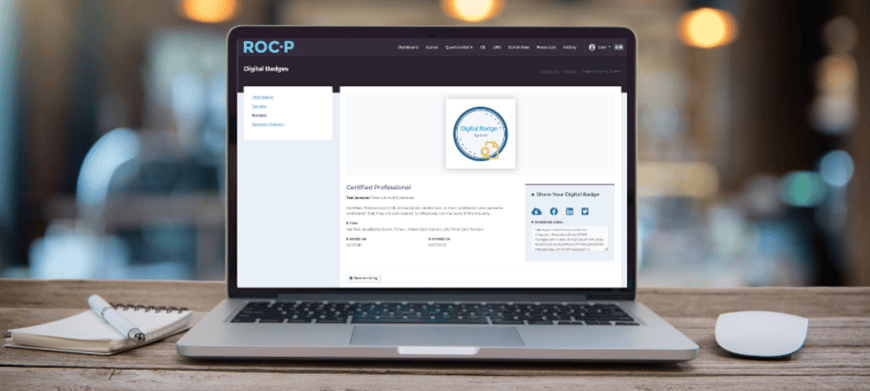 As the industry's most configurable solution for credentialing management, ROC-P offers a robust and constantly expanding list of features and automations designed to make certification and recertification easier. We are now proud to add digital badging to that list.
ROC-P's digital badging functionality is now available to all ROC-P clients and included in the platform's Credentialing Core.
How ROC-P simplifies digital badging
Digital badging has become the sign of an innovative certifying organization. ROC-P is making digital badging easier, while also helping organizations cut costs and stay nimble.
By offering a complete digital badging solution, ROC-P eliminates the need for an expensive third-party badging platform. It also means less time designing and deploying your digital badges since it's built into the core of our platform.
If your organization doesn't already offer digital badging, ROC-P makes it easy to provide this valuable service to certified individuals without juggling another vendor.
Built on the Open Badge standard
ROC-P's digital badging solution is built upon the trusted Open Badge 2.0 standard, meaning it provides verifiable and sharable data about the credential holder in the world-leading format for digital badges.
That gives our digital badges built-in benefits, including:
Native security: Open badges use cryptographic technology to resist tampering and are instantly machine verifiable, allowing them to be authenticated much more quickly than traditional credentials. When a user clicks the link in an Open Badge, they initiate a verification process with the server hosting the original badge and receive an instant confirmation.
Comprehensive data: Each badge contains secure information on the organization that issued the credential, along with certification criteria, expiration dates and more.
Easy sharing: Our platform allows our users to share credentials easily across platforms, expanding your credential's visibility. Badges can be added to backpack, passport and wallet solutions, as well as digital portfolios, social profiles and business websites.
Tailored branding: Badges are built by ROC-P's in-house design team, so your digital badges adhere to organizational brand standards.
If you are ready to offer digital badging or need a new solution, ROC-P can help. Reach out to schedule a consultation today.