Meet ROC-P's Credentialing Core for Certification Management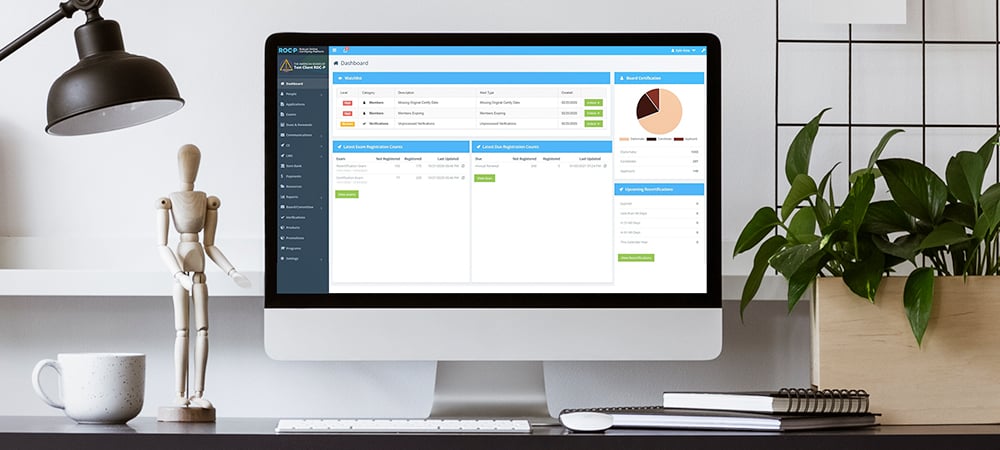 If your board or organization is struggling to find new credentialing management software that does everything you need it to do without compromises, look no further than ROC-P.
ROC-P is the certification industry's most configurable solution for managing individuals, applications, exams, dues, and more at every stage of your certification and recertification cycles. Our software as a service (SaaS) platform can be tailored to your organization's unique needs and certification complexities, with the ability to add specialized functionalities as needed.
It starts with our powerful Credentialing Core, which bundles some of the most important certification management and administration tools for credentialing organizations or boards. It's designed to streamline processes and automate repetitive, time-consuming tasks, allowing your team to recover capacity and focus on what's really important.
We're so confident in ROC-P's feature set that we're challenging organizations like yours to give us your most complex recertification cycle, and we'll show you how we can meet the need as part of our Certification Cycle Challenge.
So what can ROC-P's Credentialing Core do?
What features are included in ROC-P's Credentialing Core?
Certified Individuals Management
ROC-P provides the tools you need to manage users at every stage of your recertification cycle. Build and maintain individual certification records with a virtually unlimited number of fields and form types, create custom groups and permissions, and manage multiple certification cycles with their own unique, complex requirements.
ROC-P's Credentialing Core also includes the ability to implement Digital Badging, allowing your users to display their credentials online.
Continuing Education Tracking
ROC-P is designed to automate repetitive tasks like Continuing Education (CE) tracking, freeing your team from customer service duties. Collect self-reported continuing education hours or credits based on configurable rules, and automatically create audit groups to ensure users are meeting their CE requirements.
Application Management
We know that user applications are a critical piece of the certification cycle, from program and exam applications to those used to screen members for your board of directors. That's why we designed ROC-P to provide unmatched application creation and tracking.
Develop comprehensive multi-step applications or forms, custom workflows for application approvals, and more. Each application is completely trackable and automated, eliminating incorrect or incomplete submissions and the need for staff review.
Exam Scheduling & Registrations
ROC-P's Credentialing Core streamlines the exam registration process, including payments, smoothing the experience for your staff and test takers alike. Export exam registrations directly to your testing partners, and use advanced search parameters to find exams and registrants in your system with just a few clicks of the mouse.
If your organization needs more advanced tools, such as in-person scenario exam grading for oral exams or automatic exam placements, consider adding ROC-P's Online Grading and Exam Placement functionalities.
Primary Source Verifications
ROC-P can save literally hundreds of hours though its comprehensive Primary Source Verification functionality. Our certification management software can also auto-generate Primary Source Verifications for certified individuals, generate verification certificates, and export that data to Excel.
Additionally, these can be configured to be completed at a charge, increasing revenue while freeing staff from low-value tasks.
Advanced Payment Management
Streamline your organization's dues and renewal operations, with the flexibility to match any recertification cycle. Configure your dues and renewal rules right from the ROC-P portal, collect online payments, and even create promotional codes for special offers to your users.
Robust Communication Tools
ROC-P's Credentialing Core takes the work out of user communications, thanks to its fully customizable email templates and powerful blast capabilities. Send scheduled and recurring messages to large groups of users, and view open and bounce rates after the fact to measure engagement.
If you need automated email tools that can integrate directly with your existing certification management workflows, consider adding ROC-P's Automated Communications functionalities. Additionally, if you need more advanced tools for managing boards and committees within your organization, including secure sharing and evaluations, consider ROC-P's Board and Committee functionalities.
Online Resources Library
Securely host files and other digital resources commonly requested by users, and free your staff from recurring document requests with our Credentialing Core. See how many people have downloaded your resource and when with full logging and tracking capabilities. You can also configure a list of training organizations for users to associate with.
On-Demand Reporting
Generate dozens of robust and graphic-filled reports on your organization's users, payments and exams with the help of powerful data filters. See expiring certifications, test statistics and revenue data, and export it with just a few button clicks.
Flexible Dashboard & Watchlist
ROC-P is built around a custom branded portal that brings your most important data to the log-in screen. See certification and upcoming registration numbers at a glance, while an integrated Watchlist automatically identifies errors and issues among your certified user base, such as expiring credentials and missing data fields, keeping you up to date at all times.
Full System Tracking & Logging
Keep track of everything that occurs in your ROC-P account with full system activity tracking and audit logs. Set customizable permissions for secure management of system elements, and login as users to view our certification management portal from their perspective without needing security credentials.
---
As you can see, ROC-P's Credentialing Core includes a full range of robust functionalities, but that's just scratching the surface of what our certification management system can really do. Learn more about the extended functionalities available from ROC-P, including:
Contact us today with your thorniest certification problems as part of our Certification Cycle Challenge, and get a personalized demo to see how ROC-P can solve them.