New Certification Management Features for Q2 2022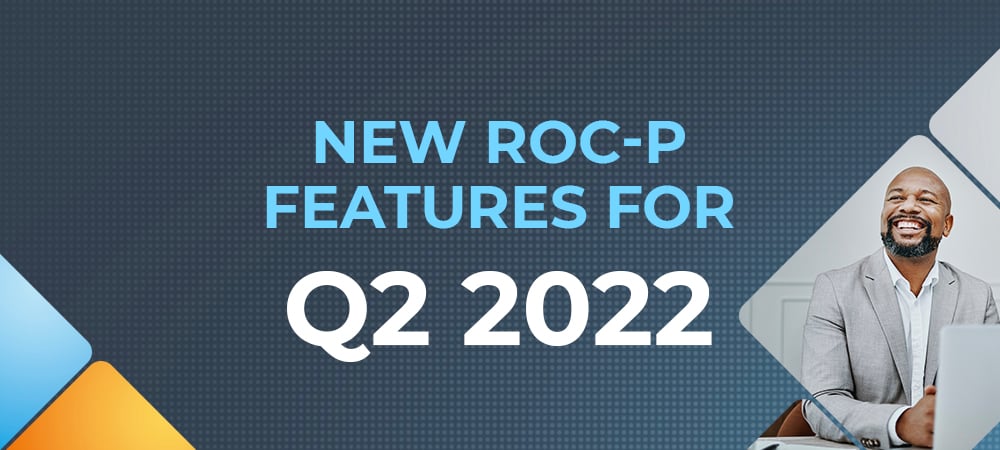 Here at ROC-P, we pride ourselves on offering the industry's most configurable and customizable solution for managing every stage of your (re)certification cycle. Part of that means evolving and growing to make sure you have the exact features your board or organization needs for certification management.
ROC-P's development team is working constantly to incorporate new requests and needs from our user base, with numerous functionality and performance improvements released each quarter so you can work faster, smarter, and more accurately.
It's an approach we believe in so deeply that we created our Certification Cycle Challenge: Find a certification function we can't fulfill out of the box, and we'll create a solution. You won't find that promise anywhere else on the market.
Here's a look at some of the newest features and capabilities added to ROC-P in the second quarter of 2022. Don't see what you need to be more efficient? Reach out for your no-pressure demo today.
ROC-P Q2 2022 Feature Releases
Ability to save report query selections
When running a report using ROC-P's numerous filters, a "Save Report" button will now appear. This allows you to save your selected filter options so you can rerun reports in the future using those same criteria. Generated reports using those filters will now appear in the "Favorite Reports" section in ROC-P's main menu.
New application status configurations
ROC-P can now automatically update individual attributes and entire profile categories based upon the change of a person's application status. For example, if a (re)certification application is approved, an attribute can be added to make the person exam eligible and remove their pending status.
ROC-P admins can now also set entire sections of a (re)certification application as inactive, giving you more granular control over your exact application workflow.

Improved reference handling for applications
If enabled as part of your application workflows, individuals can now see which of their references have submitted letters or documentation on their behalf as part of a (re)certification application. (Note that this does not allow them to see the actual content of the reference.)
When references are required as part of an application, a due date can also be set based on a specific period of time from when the application was submitted, freeing your staff from having to track and document timelines.
New file upload capabilities
ROC-P developers are constantly adding ways to configure the platform to your exact certification management needs. Admins can now allow the labeling of file uploads, as well as multiple file uploads for the same question field, and set specific file type restrictions on each file uploaded.
More communication options
Users of ROC-P's advanced communication functionalities can now send blast text messages to candidates and diplomates, as well as notifications within the user portal itself, ensuring you can reach people where and when it's most convenient.
New exam preparation features
ROC-P admins can choose to print exam nametags in order by the day of exam, then session, and then in alphabetical order, saving time as your staff prepares for important certification exams.
New file system optimizations
Although invisible to users and administrators, the latest ROC-P release includes new optimizations that accelerate the saving and retrieval of system files and pages, further improving ROC-P's already lightning-fast performance.
---
If you're ready for an out-of-the-box solution that promises to grow with your organization's exact needs and complexities, reach out for a demo today. We'll show you just how more efficient your certification workflows can become with ROC-P.