Introducing the Certification Cycle Challenge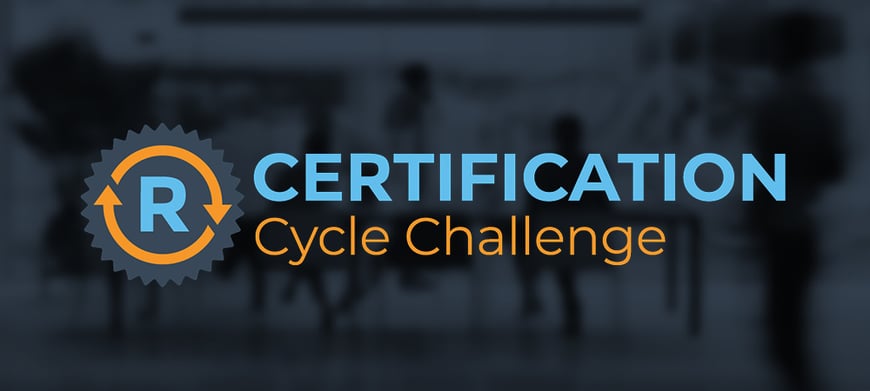 If there's one thing we've learned over a decade serving certifying organizations like yours, it's that no two certification cycles are alike. So why do most certification management systems try to fit your cycle requirements into a one-size-fits-all platform (or demand sky-high custom development fees to adapt it)?
Here at ROC-P, we understand that your certification and recertification processes have been carefully crafted to validate the skills and knowledge that make someone in your field an expert. Instead of asking you to fit your unique needs to our system, we've created the industry's most configurable credentialing management platform that can adjust to virtually any requirement right out of the box.
We're so confident in ROC-P's ability to handle your organization's unique cycle requirements without custom development that we've created the Certification Cycle Challenge to prove it.
The Certification Cycle Challenge
Here's our challenge to you: Bring us your most complex certification and recertification cycles and see if ROC-P can accommodate them out of the box, without custom development.
We're so sure of ROC-P's capabilities that we'll develop a solution if it can't satisfy your cycle needs.
What kinds of complexities can we handle? The list is long, but at a high level, does your organization have:
Multiple certifications, all with their own requirements and timelines?
A vetting process for new applicants before they can take their certification exam?
Multiple pathways or sub-certifications for your main certifications?
Sequential certifications that need to be completed in order? (i.e. Level 1, Level 2, etc.)
Recertification cycles based on a diplomate's status, experience or date?
If you answered "yes" to any of the above, ROC-P was made for your organization. Our powerful, flexible certification management software can be configured to your exact specifications, whether you have one certification or 20. From our robust Credentialing Core to our wide range of functional extensions, we can create your dream management platform with everything you need and nothing you don't.
Sign up for certification management insights in your inbox
Even better, ROC-P's intuitive interface makes it easy for your staff to set up new certification workflows or tweak existing ones, so you don't need to get developers involved and wait for changes. (We're always available to help, too!)
Once your workflows are configured, our software can automate many of your organization's routine certification processes, from applications to exam placements, resulting in significant time savings and staff efficiencies.
Sound too good to be true? It's not, it's just ROC-P. Contact us and take the Certification Cycle Challenge when you're ready to upgrade your certification management, and see if you can beat us—we're confident you won't.